31679
Holdfázis-kronográf kézi húzású / Lunar Chronograph Manual winding
Átmérö 31 mm
Magasság 5.8 mm
25 csapágykö
Lengésidö 0.33(3) s
Napi eltérés -10 to +20 s/nap
42 óra járástartalék
37 óra járástartalék, ha a stopper funkciót használják




Calibre 26 mm
Height 5.8 mm
25 Ruby jewels
Balance period 0.33(3) s
Mean daily rate from -10 to +20 s/day
42h power reserv
37h power reserv using choronograph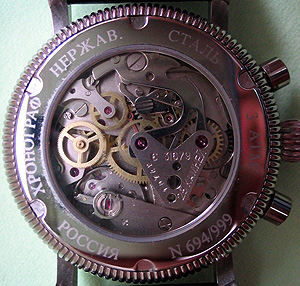 A kaliber története kész számháború. A nagypapa a klasszikus Valjoux 7734.
Ezt vette át 1975-ben az Elsö Moszkvai Óragyár 3133 kódszámmal a svájcból importált gyártósorral együtt.
Két újabb csapágyköre volt szükség a holdfázis funkció megvalósításához. A módosított kaliber megkapta a 31679 kódszámot.

The history of the caliber is like numeric game. The grand father is the classic Valjoux 7734.
That was taken over in 1975 by the First Moscow Watch Factory under the code 3133 along with the machinery from Switzerland.
Two more stones was required to implement moonphase function while reaching the code number 31679.

www.mechanikus.hu